Book
The Value Proposition
Read Book Review from the CFA Institute  

Sionna's Common Sense Path to Investment Success
If you're looking to build wealth over time, Kim Shannon's new book covers a common sense approach that Sionna Investment Managers uses to manage money on behalf of its clients.
Shannon and her investment team follow a path well-established by the most successful value investors: Benjamin Graham, David L. Dodd, Sir John Templeton, Peter Lynch and the "world's greatest investor," Warren Buffett. However, Sionna has a unique take on value – one that addresses the idiosyncrasies of concentrated markets – like Canada's.
Despite proven success, value investing struggles for respect, particularly during bubbles and declines when investors take cues from headlines instead of reason and experience. Shannon discusses the psychological impulses underlying mispriced stocks that become unmoored from their intrinsic value. Citing examples, she endorses understanding investment psychology and using relative value to buy illogically discounted shares.
Suited for investors at all levels, The Value Proposition reveals Sionna's quantitative and qualitative processes and a "Sherlock Holmes" orientation to reading financial statements and assessing a company's management. After 30 successful years in the hard knocks investment world, Shannon views herself fortunate to have found her calling managing money for institutions and individuals.
She describes the unlikely journey that led to an industry that has only recently attracted women. Her account of influential mentors, the merits of staying independent and her creation of a strong Sionna culture make for an engaging and informative read.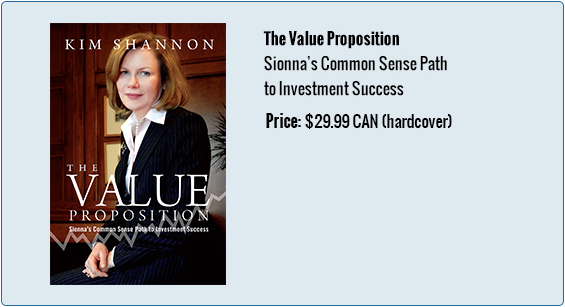 eBook Available Through
Amazon
Google ebookstore
Barnes & Noble
Indigo
eBookIt!
Kobo
Testimonials
"The book is well researched, well written, and very enjoyable to read. It addresses quite a range of topics not often covered in other literature on the subject."
– Bruce Grantier, CFA, CFA Institute
"When Kim Shannon, one of brightest value investors in Canada, shares her process you should pay attention. There are a lot of great insights in this book."
– Vitaliy Katsenelson, Chief Investment Officer, Investment Management Associates
"It takes wisdom to produce the kinds of results that have made Sionna the success it is today. Kim will go down in investment history as a 'sage.'"
– Susan Latremoille, Director, Wealth Management, Wealth Advisor, Richardson GMP Ltd.
"It is, in particular, a great book for young people considering a career in portfolio management."
– Don Coxe, Chairman, Coxe Advisors LLP
"I would recommend the book to those who want to understand the fundamentals of the value investing framework. The book caters to a wide audience..."
Full Review
>
– Kevin Graham, Seeking Alpha Blog